AIRTELIS
EXPERTISE ALL ALONG THE LINE
Since 2011, Airtelis has been involved in the sale of its helicopter operations, offering its experience and high levels of competency developed for over 60 years within the heart of itsmother company, RTE, which operates the Electricity Transmission System. Now Airtelis is making all these services available to everyone. As a company, its skills and qualifications are highly regarded both on a French and international level.
A STRONG PRESENCE THROUGHOUT FRANCE
The headquarters of AIRTELIS is based in Avignon where we are privileged enough to have access to the local airport. We also have other operational bases for power line inspection patrolling :
Paris
La Baule
Dijon
Albertville
Auch
In addition to the line maintenance base located in Cazaux and in the Pyrénées, we intervene on an international level, offering our services with a high level of expertise to a wide number of clients.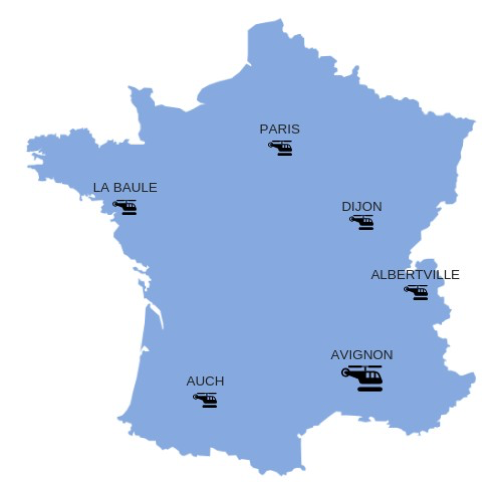 AN AERIAL VIEW OF OUR EXPERTISES !
Specialist in helicopter operations, AIRTELIS shares with you its expertise. Our experts offer you 6 main types of service :
operations on energized lines : helicopter interventions for construction, line inspection, maintenance
External load lifting operations
Aeronautical services : tailored maintenance, helicopter dry lease with services
Emergency operations : Fire-fighting
Consultancy and training
Drone activities : power grid operations, cable operations…
OPTIMUM SERVICE: OPERATIONAL SUPPORT FROM THE BEGINNING TO THE END !
Whatever the operation, we are well known for our precision in offering a tailored service to suit our clients' needs. In following this precept, and by considering each and every technical aspect, we can then be in a position to guarantee high quality work, under high levels of safety, maintaining a level of promptness in our execution.
OUR VALUES ARE AT THE HEART OF OUR OPERATIONS
Safety, quality, protection of the environment, precision, professionalism, rapidity, high level execution of work, good team spirit… Every day, we apply these values to each of our operations. As we bring forth and prove our professionalism each day, a level of confidence is thus generated with our clients who profit from a unique, high quality service.
As an advantage, helicopters are able to intervene without prior creation of landing areas and thus limit the environmental impact notably in zones that offer reduced levels of accessibility such as forestry areas or mountainous regions.
RTE, bringing electricity to everyone !
RTE (Electricity transport network system) is a private company with the duty of supplying a public service in the form of the management of the transmission network of high voltage electricity to the metropolis of France and to export its knowledge on an international level. Above all, its main aim is to offer its clients an economical, secure and environmentally friendly solution to electricity. With that in mind, RTE manages, maintains and develops its network and thus guarantees its high standards.

number of clients
(2014 to 2017)


km of power line / year
surveillance and maintenance

interventions / year
repairs
replacing cable spacers

wks / year
helicopter live-line operations
"Heli-Baskets" platform work